PURPOSE
Allowing Users to play in head to head carnival-style related games, tournaments, sweepstakes, contests and promotions with prize indemnity insurance.
When was the last time you had someone call one of their friends and beg them to play a game that your company had sponsored? That kind of direct viral interaction is the most coveted form of consumer interaction, especially when it leads to direct purchases. An interactive ad in Facebook, Instagram, Snap, TikTok, LinkedIn, Twitter, and other top social platforms is not bringing two consumers together through viral connection, even if one passes it to a friend, they are not connected. These games generate the same brand impressions that an ad in social media would generate, with one clear exception….
When a consumer is looking at your brand while they are playing a fun, highly habit forming game, the brand impressions you are making are much more valuable and appreciated.  In Sizzle, there are no advertisements in our games. Instead, consumers will look through a list of ten prizes and select four prizes that they wish to play for. This creates market research for your brand. At the end of the game, the consumer arbitrarily either wins a prize or they receive an offer of your choosing for them to receive a discount on purchasing your goods, services, experiences or more.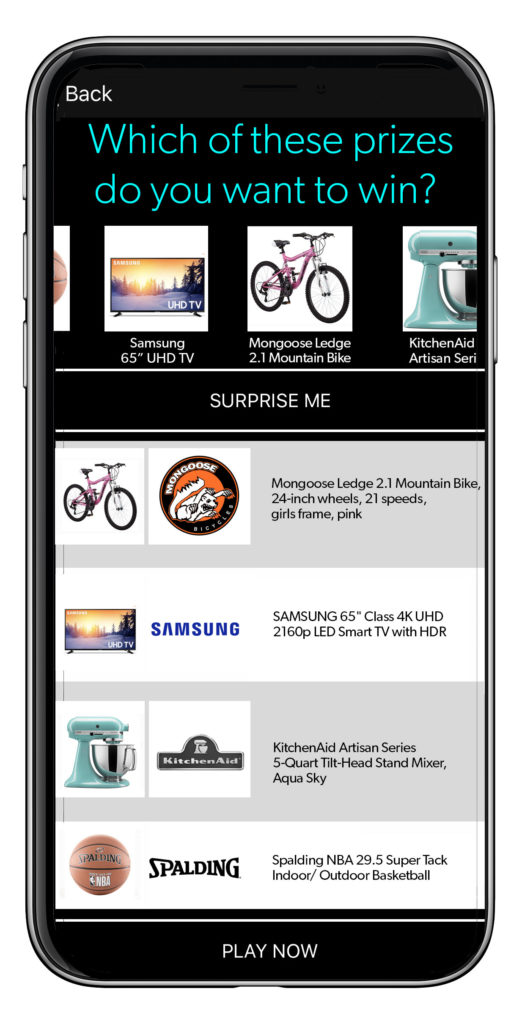 CONCEPT
Augmented reality carnival-style softball milk cans games enable one friend to invite another friend to join them in a virtual game of Sizzle Milk Cans™ with ten shots each. Both players take their ten shots with score being tallied.
Players have opportunity to use an interactive verbal smack talk feature to further the rivalry during the game.
Connect winners into a sports ladder to enable the user to rise up in the ranks and play against other winners for their chance to win a grand prize.
INSURANCE
Stand out from the competition with insurance that allows you to offer a large prize risk-free, for a premium that is a fraction of the prize value (in situations where the prize is not guaranteed).
Promotions and games can be effective business-building tools for your company, but they also introduce risks. Promotional insurance from Specialty Group, a member of Tokio Marine HCC, helps protect your company from those risks.
Their comprehensive promotional insurance portfolio and decades of insuring thousands of promotions and games make Specialty Group the right choice for all types of clients and promotional events. That combination of products, experience and expertise equips Tokio Marine and Sizzle to rapidly develop unique, creative and budget-friendly insurable promotions that precisely support your company's business objectives and brand.
Application for Insurance:  https://www.tmhcc.com/en-us/-/media/TMHCC/Specialty-Group/Docs/Promotions/Prize-Application-72016-fillable.pdf
Insured Promotions and Games
Promotions and games can create a buzz around an event, attract sponsors and attendees, and lead to a call to action. Specialty Group can help customize your client's promotion to make it unique and more successful. Flexibility in pricing and/or adjusting the terms helps to make sure the promotion is relevant and affordable.
Sweepstakes with a "Kicker" 
On top of a traditional sweepstakes contest, the "kicker" is a guaranteed prize awarded to randomly selected winners. The selected winner(s) have an opportunity to win a huge jackpot if their entry contains a precise answer or guess relating to an uncontrollable event in the future.
Example: guessing the score of a sporting event or the precise time / date of a particular event occurring.
Sports-Related Promotions
These skill-based promotions usually take place at a sporting event or fundraiser, and can be quoted through our fully automated online quote and bind system, TotalEvent® insurance online (www.totaleventinsurance.com/broker). Coverage for golf, hockey, basketball and
football contests is included.
Examples: a hole-in-one contest at a charity golf tournament or a basketball half-court shot during a college basketball game.
Promotion Sweepstakes Bonds
Also known as game-of-chance surety bonds, promotion sweepstakes bonds are required in Florida and New York for any game-of-chance promotion with a retail value over $5,000. The promotion must be bonded and registered with their office. Rhode Island requires only a registration for any retail promotion over $500. No other states require these promotions to be bonded.
---
For illustrative purposes only. No relationship between Sizzle and the brands on this page is intentional or implied. Trademarks belong to the original trademark holder.